Valve remote control system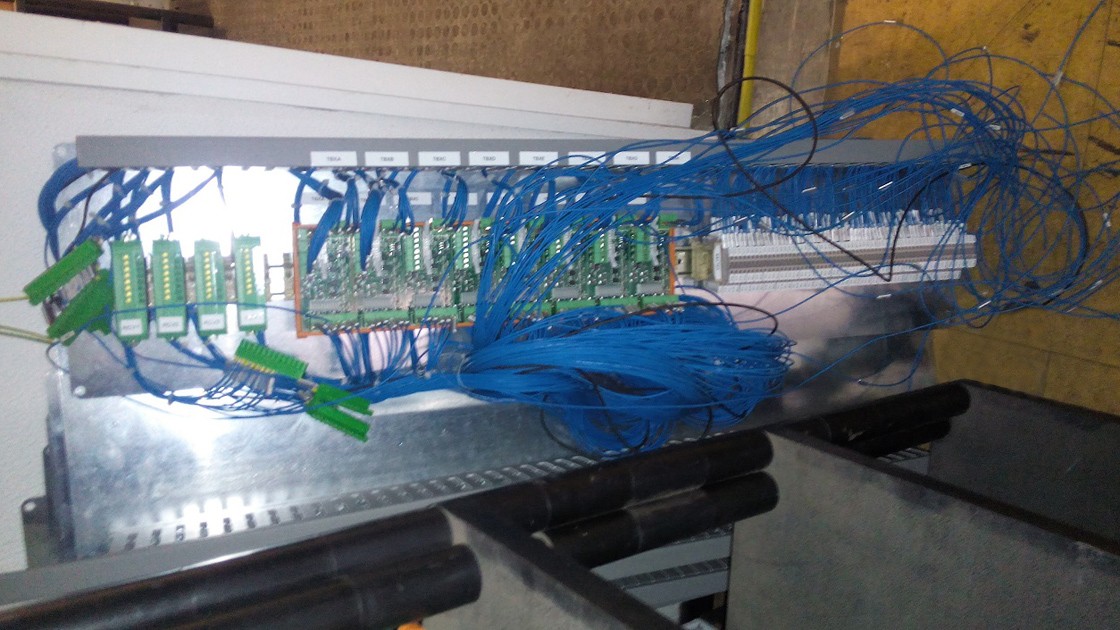 Our standard Valve Control System controls the following equipment:
Bulkhead valves:
closing of all the bulkhead valves
closing of the bulkhead valves by watertight compartment
maintenance mode with password to close/open single
alarm when a valve is open after closing from the bridge
Swimming pools discharge valves:
status indication and control.
The system also includes remote control and monitoring for the valves, which are connected to valve stations; individual indication for the valves is located in the bridge.
Cable break monitoring function is provided to the interface of WTD system and remote control valve system.
For each controlled valve, cable break alarm is available in SMCS by the serial communication lines.
product categories
markets
references
year
builder
owner shipyard
system supplied
ship
on delivery 2022
Fincantieri
Virgin Cruise
6289
on delivery 2021
Fincantieri
Holland America
6278
on delivery 2021
Fincantieri
Msc Crociere
6306
on delivery 2021
Fincantieri
Princess Cruises
6290
on delivery 2021
Fincantieri
Virgin Cruise
6288
on delivery 2020
Fincantieri
Carnival Cruise
6273
on delivery 2020
Fincantieri
Princess Cruises
6275
on delivery 2020
Fincantieri
Regent
6281
on delivery 2020
Fincantieri
Silver
6279
on delivery 2020
Fincantieri
Virgin Holidays Cruises
6287
2019
Fincantieri
Costa Crociere
Costa Venezia
on delivery 2019
Fincantieri
P&O Australia
6272
on delivery 2019
Fincantieri
Princess Cruises
6268
2018
Fincantieri
Carnival Cruise
Horizon
2018
Fincantieri
Holland America
Nieuw Amsterdam
2018
Fincantieri
Msc Crociere
6257
2018
Fincantieri
Seabourn Cruises
Seabourn Ovation
2017
Fincantieri
Msc Crociere
Seaside
2017
Fincantieri
Princess Cruises
Majestic Princess
2016
Fincantieri
Carnival Cruise
Carnival Vista
2016
Fincantieri
Holland America
Koningsdam
2016
Mariotti
Private
FULK AL SALAMAH
2016
Fincantieri
Regent Cruises
Seven Seas Explorer
2016
Fincantieri
Seabourn Cruises
Seabourn Encore
2016
Fincantieri
Silversea Cruises
Silversea Muse
2015
Fincantieri
Comp. Iles Du Pon.
Le Lyrial
2015
Fincantieri
Princess Cruises
Britannia
2014
Fincantieri
Costa Crociere
Costa Diadema
2014
Fincantieri
Princess Cruises
Regal Princess
2013
Fincantieri
Comp. Iles Du Pon.
Le Soleal
2013
Fincantieri
Princess Cruises
Royal Princess
2012
Fincantieri
Carnival Cruise
Carnival Breeze
2012
Fincantieri
Costa Crociere
Costa Fascinosa
2012
Fincantieri
Oceania Cruises
Oceania Riviera
2011
Fincantieri
Carnival Cruise
Carnival Magic
2010
Fincantieri
Carnival Uk
Azura
2010
Fincantieri
Comp. Iles Du Pon.
Le Boreal
2010
Fincantieri
Comp. Iles Du Pon.
L'Austral
2010
Fincantieri
Costa Crociere
Costa Favolosa
2010
Fincantieri
Oceania Cruises
Oceania Marina
2009
Fincantieri
Carnival Cruise
Carnival Dream
2009
Fincantieri
Costa Crociere
Costa Deliziosa
2009
Fincantieri
Silversea
Silver Spirit
2008
Fincantieri
Carnival Cruise
Carnival Splendor
2008
Fincantieri
Costa Crociere
Costa Luminosa
2008
Fincantieri
Princess Cruises
Ruby Princess
2007
Fincantieri
Carnival Cruise
Carnival Freedom
2007
Fincantieri
Carnival Uk
Ventura
2006
Fincantieri
Costa Crociere
Costa Concordia
2006
Fincantieri
Costa Crociere
Costa Serena
2006
Fincantieri
Princess Cruises
Emerald Princess
2006
Fincantieri
Princess Cruises
Crown Princess
2004
Fincantieri
Costa Crociere
Costa Magica
2004
Mitsubishi
Princess Cruises
Sapphire Princess
2004
Fincantieri
Princess Cruises
Caribbean Princess
2003
Fincantieri
Carnival Cruise
Carnival Glory
2003
Fincantieri
Costa Crociere
Costa Fortuna
2003
Mitsubishi
Princess Cruises
Diamond Princess
2002
Fincantieri
Carnival Cruise
Carnival Liberty
2002
Fincantieri
Carnival Cruise
Carnival Conquest
2002
Fincantieri
Princess Cruises
Star Princess
2001
Fincantieri
Princess Cruises
Golden Princess
2000
Meyer Werft
Carnival Uk
Aurora
1999
Fincantieri
Carnival Uk
Oceana
1998
Fincantieri
Carnival Cruise
Carnival Triumph
1998
Fincantieri
Princess Cruises

Com.Segn.Fsd
High pressure washing

Sea Princess
1997
Fincantieri
Disney Cruise
Disney Wonder
1997
Fincantieri
Holland America
Volendam
1997
Fincantieri
Princess Cruises

Special Hydraulic Plants
Remote Control Fsd

Dawn Princess
1996
Fincantieri
Carnival Cruise
Carnival Destiny
1996
Fincantieri
Disney Cruise
Disney Magic
1996
Fincantieri
Princess Cruises
Grand Princess
1995
Fincantieri
Holland America
Rotterdam
1995
Fincantieri
Princess Cruises
Sun Princess
1992
Fincantieri
D'Alesio
Calafuria
1992
Fincantieri
D'Alesio
Liliana D'Alesio
1992
Fincantieri
D'Alesio
Francesco D'Alesio
1991
Fincantieri
Adriatica
Laurana
1988
Fincantieri
Grimaldi

Bilge Antiheeling Remote Level Indicator

Repubblica Di Amalfi
1988
Fincantieri
Grimaldi

Bilge Antiheeling Remote Level Indicator

Repubblica Di Genova
1988
Fincantieri
Tirrenia

Lifts
Elevator
Dumb waiters

Capo Sandalo
1988
Fincantieri
Tirrenia

Lifts
Elevator
Dumb waiters

Capo Spartivento
1987
Fincantieri
Grimaldi

Bilge Antiheeling Remote Level Indicator

Repubblica Di Venezia
1987
Fincantieri
Tirrenia

Lifts
Elevator
Dumb waiters

Capo Carbonara
1982
Italcantieri
Italian Navy

Shutters
Dumb waiters
Lifts

Garibaldi
1981
C.N. Breda
Feeder Vessel Ussrs
Anathony Z.
1981
C.N. Breda
Feeder Vessel Ussrs
Nikolay Markin