Watertight sliding doors (WTD)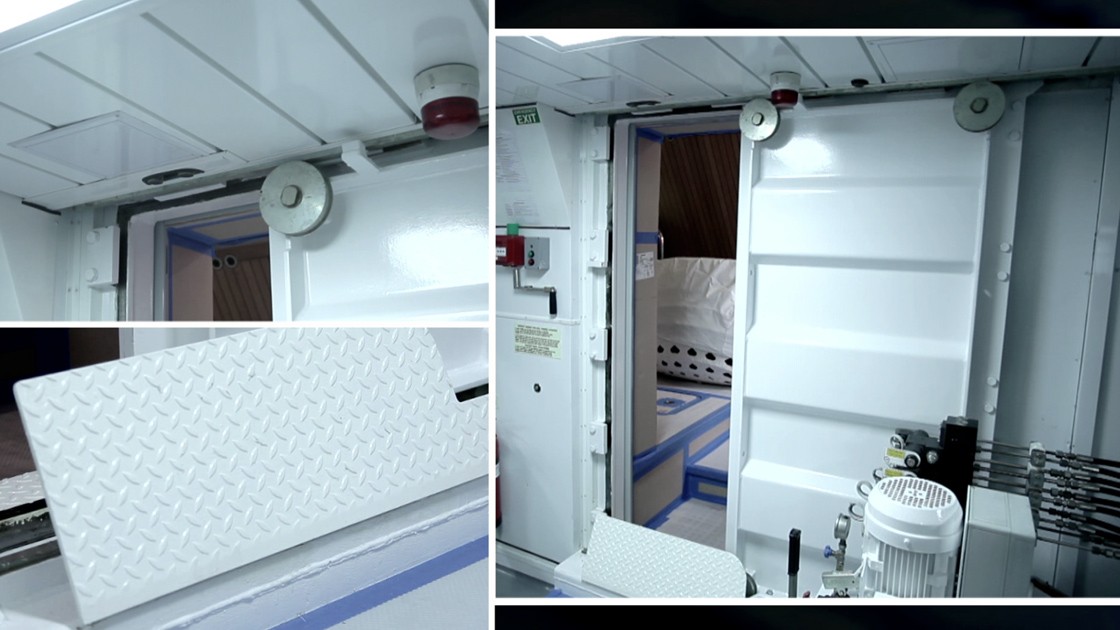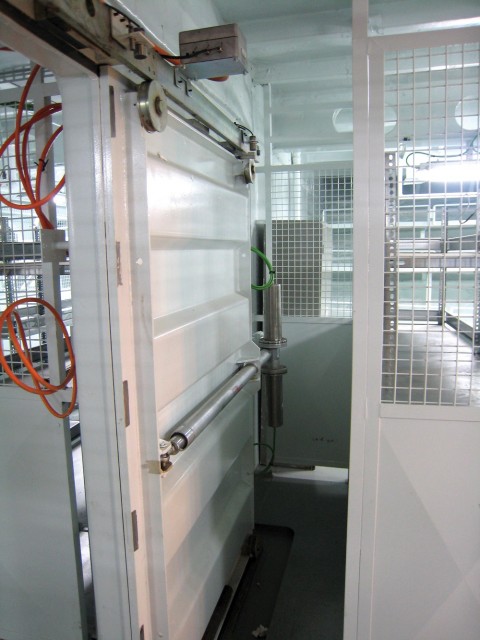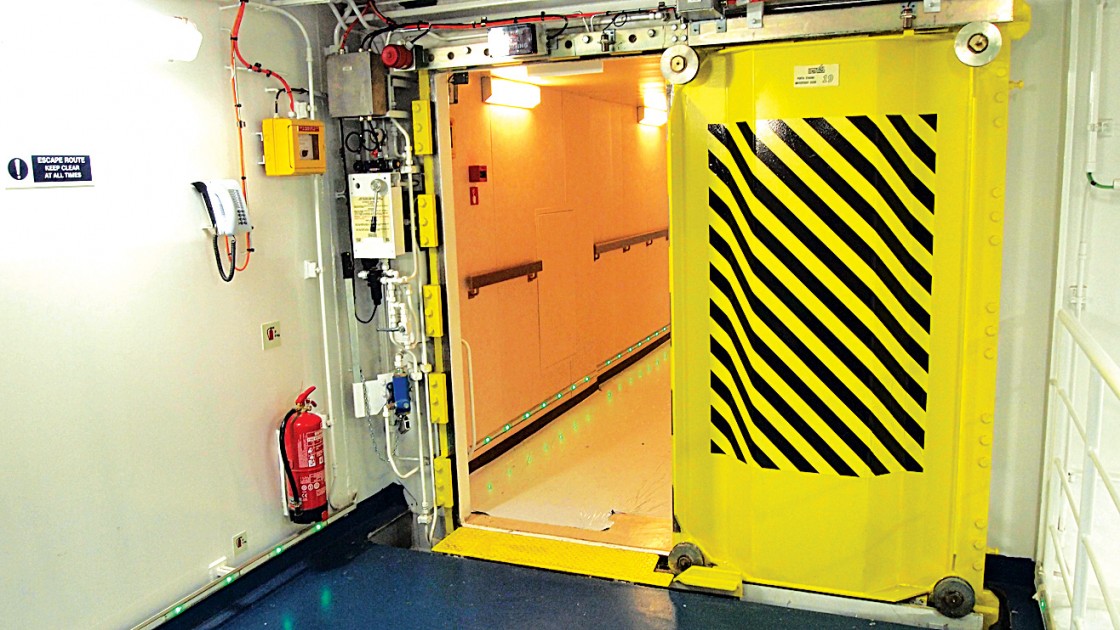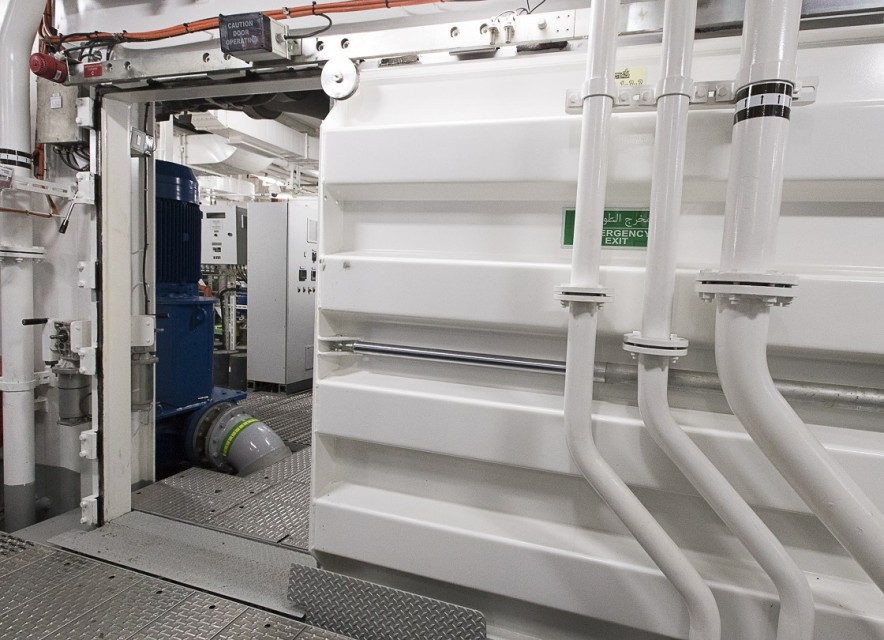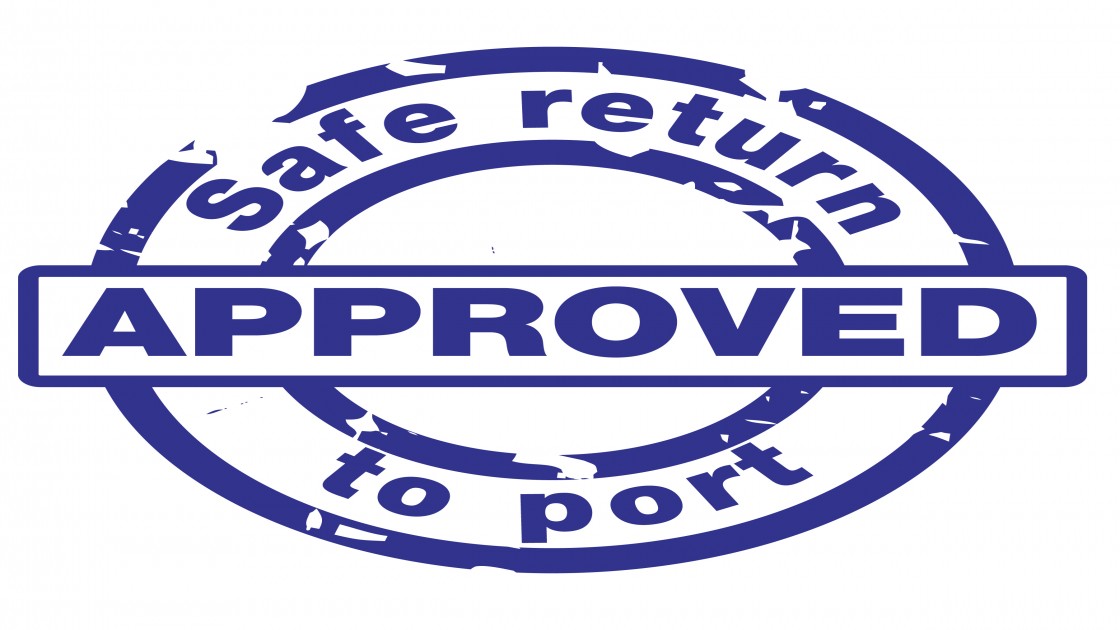 The watertight sliding doors are the SeaNet Group core business: we provide them since 1975 and our WTDs are available for any type of ships.
To date we have more than 3,500 sliding watertight and splash tight door installations to our credit in over 70 leading cruise company ships worldwide.
WTD, main features:
The only watertight doors with "mechanical sealing": thanks to their metal-metal joints, SeaNet doors have a perfect sealing system
Free from risky rubber seals, they guarantee maximum water tightness, even in the event of a fire orbulkhead deformation
The only designed to have a maintenance service every 200,000 operations.
Actuation: electric or hydraulic
SAFE RETURN TO PORT APPROVED
Standard size:
clear width from 750mm to 2000mm
clear height, from 1750mm to 2100mm
SeaNet Group can deliver WTDs of every size, on request.
The doors can be controlled from a normally manned central position of the bridge, from the emergency station(s) above the bulkhead, locally from both sides of the bulkhead. It is possible to open and close the door by hand at the door itself from both sides.
Our doors are very easy to install and anyway we can offer our support for the installation.
SeaNet Group WTD are certified by the leading international classification authority: Rina, Bureau Veritas, Lloyd's Register, IMO Solas
markets
references
year
builder
owner shipyard
system supplied
ship
on delivery 2022
Fincantieri
Virgin Cruise
6289
on delivery 2021
Fincantieri
Holland America
6278
on delivery 2021
Fincantieri
Msc Crociere
6306
on delivery 2021
Fincantieri
Princess Cruises
6290
on delivery 2021
Fincantieri
Virgin Cruise
6288
on delivery 2020
Fincantieri
Carnival Cruise
6273
on delivery 2020
Fincantieri
Princess Cruises
6275
on delivery 2020
Fincantieri
Regent
6281
on delivery 2020
Fincantieri
Silver
6279
on delivery 2020
Fincantieri
Virgin Holidays Cruises
6287
2019
Fincantieri
Costa Crociere
Costa Venezia
on delivery 2019
STX France
Msc Crociere
H 34
2019
STX France
MSC Crociere
Bellissima
on delivery 2019
STX France
Msc Crociere
G 34
on delivery 2019
Fincantieri
P&O Australia
6272
on delivery 2019
Fincantieri
Princess Cruises
6268
2018
Fincantieri
Carnival Cruise
Horizon
2018
Fincantieri
Holland America
Nieuw Amsterdam
2018
Fincantieri
Msc Crociere
6257
2018
Fincantieri
Seabourn Cruises
Seabourn Ovation
2017
Fincantieri
Msc Crociere
Seaside
2017
Fincantieri
Princess Cruises
Majestic Princess
2016
Fincantieri
Carnival Cruise
Carnival Vista
2016
Fincantieri
Holland America
Koningsdam
2016
STX France
MSC Crociere
E 34
2016
Mariotti
Private
FULK AL SALAMAH
2016
Fincantieri
Regent Cruises
Seven Seas Explorer
2016
Fincantieri
Seabourn Cruises
Seabourn Encore
2016
Fincantieri
Silversea Cruises
Silversea Muse
2015
Fincantieri
Comp. Iles Du Pon.
Le Lyrial
2015
Fincantieri
Princess Cruises
Britannia
2014
Fincantieri
Costa Crociere
Costa Diadema
2014
Fincantieri
Princess Cruises
Regal Princess
2013
Fincantieri
Comp. Iles Du Pon.
Le Soleal
2013
Fincantieri
Princess Cruises
Royal Princess
2012
Fincantieri
Carnival Cruise
Carnival Breeze
2012
Clodia
Consorzio Venezia Nuova
Mose
2012
G. Lavori Fincosit
Consorzio Venezia Nuova
Mose
2012
Clodia
Consorzio Venezia Nuova
Mose
2012
Mantovani
Consorzio Venezia Nuova
Mose
2012
Fincantieri
Costa Crociere
Costa Fascinosa
2012
Fincantieri
Oceania Cruises
Oceania Riviera
2012
Mariotti
Private
Rahil
2011
Fincantieri
Carnival Cruise
Carnival Magic
2011
Mariotti
Seabourn Cruises
Seabourn Quest
2010
Fincantieri
Carnival Uk
Azura
2010
Fincantieri
Comp. Iles Du Pon.
L'Austral
2010
Fincantieri
Comp. Iles Du Pon.
Le Boreal
2010
Fincantieri
Costa Crociere
Costa Favolosa
2010
Fincantieri
Oceania Cruises
Oceania Marina
2010
Mariotti
Seabourn Cruises
Seabourn Sojourn
2009
Fincantieri
Carnival Cruise
Carnival Dream
2009
Fincantieri
Costa Crociere
Costa Deliziosa
2009
Mariotti
Seabourn Cruises
Seabourn Odyssey
2009
Fincantieri
Silversea
Silver Spirit
2008
Fincantieri
Carnival Cruise
Carnival Splendor
2008
Fincantieri
Costa Crociere
Costa Luminosa
2008
Fincantieri
Princess Cruises
Ruby Princess
2008
Fincantieri
Tallink
Superstar
2007
Fincantieri
Carnival Cruise
Carnival Freedom
2007
Fincantieri
Carnival Uk
Ventura
2006
Fincantieri
Costa Crociere
Costa Serena
2006
Fincantieri
Costa Crociere
Costa Concordia
2006
Costa Crociere
Costa Crociere
Costa Tropicale
2006
Fincantieri
Princess Cruises
Emerald Princess
2006
Fincantieri
Princess Cruises
Crown Princess
2005
Fincantieri
Carnival Cruise
Carnival Liberty
2004
Fincantieri
Costa Crociere
Costa Magica
2004
Fincantieri
Princess Cruises
Caribbean Princess
2004
Mitsubishi
Princess Cruises
Sapphire Princess
2003
Fincantieri
Carnival Cruise
Carnival Glory
2003
Fincantieri
Costa Crociere
Costa Fortuna
2003
Mitsubishi
Princess Cruises
Diamond Princess
2002
Fincantieri
Carnival Cruise
Carnival Conquest
2002
Fincantieri
Princess Cruises
Star Princess
2002
Mariotti
Seven Seas
Seven Seas Voyager
2001
Fincantieri
Princess Cruises
Golden Princess
2001
Mariotti
Silversea
Silver Whisper
2000
Fincantieri
Carnival Cruise
Carnival Victory
2000
Meyer Werft
Carnival Uk
Aurora
2000
Mariotti
Silversea
Silver Shadow
1999
Fincantieri
Carnival Uk
Oceana
1999
Meyer Werft
Carnival Uk
Oriana
1999
Fincantieri
Holland America
Amsterdam
1999
Mariotti
Seven Seas
Seven Seas Navigator
1998
Fincantieri
Carnival Cruise
Carnival Triumph
1998
Mariotti
Costa Crociere
Costa Marina
1998
Fincantieri
Holland America
Zaandam
1998
Fincantieri
Princess Cruises

Com.Segn.Fsd
High pressure washing

Sea Princess
1997
Fincantieri
Disney Cruise
Disney Wonder
1997
Fincantieri
Holland America
Volendam
1997
Fincantieri
Princess Cruises

Special Hydraulic Plants
Remote Control Fsd

Dawn Princess
1996
Fincantieri
Carnival Cruise
Carnival Destiny
1996
Fincantieri
Disney Cruise
Disney Magic
1996
Fincantieri
Princess Cruises
Grand Princess
1995
Bremer Vulkan
Costa Crociere
Costa Victoria
1995
Fincantieri
Holland America
Rotterdam
1995
Fincantieri
Holland America
Veendam
1995
Fincantieri
Princess Cruises
Sun Princess
1994
Fincantieri
Holland America

Fin Stabilizer-Rudder-Propeller

Ryndam
1993
Fincantieri
Holland America

Fin Stabilizer-Rudder-Propeller

Maasdam
1993
Mariotti
Silversea
Silver Wind
1992
Fincantieri
//
Ta Kuan
1992
Mariotti
Costa Crociere
Costa Allegra
1992
Fincantieri
Costa Crociere
Costa Romantica
1992
Fincantieri
Holland America

Fin Stabilizer
rudder
propeller

Statendam
1992
Mariotti
Silversea
Silver Cloud
1991
Fincantieri
Adriatica
Laurana
1991
Fincantieri
Costa Crociere
Costa Classica
1990
Fincantieri
Carnival Uk
Pacific Dawn
1990
I.N.M.A.
Corsica Ferries
Corsica Victoria
1990
I.N.M.A.
Corsica Ferries
Corsica Regina
1990
Mariotti
Costa Crociere
Costa Marina
1990
Fincantieri
Grimaldi
Nuova Europa
1990
Fincantieri
Grimaldi
Nuova Africa
1988
Fincantieri
Grimaldi

Bilge Antiheeling Remote Level Indicator

Repubblica Di Amalfi
1988
Fincantieri
Grimaldi

Bilge Antiheeling Remote Level Indicator

Repubblica Di Genova
1988
Fincantieri
Tirrenia

Lifts
Elevator
Dumb waiters

Capo Sandalo
1988
Fincantieri
Tirrenia

Lifts
Elevator
Dumb waiters

Capo Spartivento
1987
Visentini
//
Jo Aigran D.
1987
Fincantieri
Blueferries
Fata Morgana
1987
Fincantieri
Grimaldi

Bilge Antiheeling Remote Level Indicator

Repubblica Di Venezia
1987
Fincantieri
Tirrenia

Lifts
Elevator
Dumb waiters

Capo Carbonara
1986
Fincantieri
Ferrovie Dello Stato
Logudoro
1986
Fincantieri
Sidermar
Cygnus Voyager
1986
Van Der Giessen
Tirrenia
Via Adriatico
1986
Van Der Giessen
Tirrenia
Via Jonio
1985
Cassa Risp.S.Miniato
//
//
1985
Navigaz. Lago Maggiore
//
Venezia
1985
Tille Sheepsbow
//
//
1985
Van Der Giessen
//
Via Ligure
1985
I.N.M.A.
//
Regal Voyager
1985
Gaioni Gino Franco
//
//
1985
Smeb
//
Giulio Verne
1985
Van Der Giessen
//
Via Tirreno
1985
Visentini
//
Archimede
1985
Fincantieri
Sidermar
Sagittarius
1985
Fincantieri
Sidermar
Gemini
1985
Fincantieri
Sidermar
Galassia
1984
Tille Sheepsbow
//
//
1984
Visentini
//
Stretto Di Messina
1984
Italcantieri
Ffss
Scilla
1984
Fincantieri
Tarros
Vento Di Scirocco
1984
Fincantieri
Tarros
Vento Di Maestrale
1983
Visentini
//
Giano
1983
Italcantieri
//
Riace
1983
Italcantieri
//
//
1983
Italcantieri
//
//
1983
Benetti
//
//
1983
Italcantieri
//
//
1983
Italcantieri
//
//
1983
N.C. Apuania
Siremar
Simone Martini
1983
Italcantieri
Tirrenia
Apulia
1982
C.N.R.
//
Marmorica
1982
C.N. Rossato Navalba
//
//
1982
N.C. Apuania
//
//
1982
C.N. Breda
//
Andinet
1982
Visentini
Caronte
Villa San Giovanni
1982
C.N. Breda
Italian Navy
Stromboli
1982
Italcantieri
Tirrenia
Aurelia
1982
Italcantieri
Tirrenia
Flaminia
1982
Italcantieri
Tirrenia
Nomentana
1981
N.C. Apuania
//
Boyana
1981
C.N.R.
//
Oglasa
1981
C.N. Orlando
Caremar
Fauno
1981
C.N. Breda
Feeder Vessel Ussrs
Nikolay Markin
1981
C.N. Breda
Feeder Vessel Ussrs
Anathony Z.
1981
Italcantieri
Tirrenia

Lifts
Elevator
Dumb waiters

Emilia
1981
Italcantieri
Tirrenia

Lifts
Elevator
Dumb waiters

Clodia
1980
C.N.R.
//
Paolo Veronese
1980
Visentini
//
Bridge
1980
C.N. Orlando
Caremar
Driade
1980
C.N. Orlando
Caremar
Naiade
1980
Italcantieri
Costa Crociere
Costa Arabica
1980
Italcantieri
Costa Crociere
Costa Ligure
1980
Italcantieri
Merzario
C.Te Revello/Saudi Quassim
1980
Italcantieri
Merzario
Andrea Merzario/Saudi Hail
1980
N.C. Apuania
Sultanato Oman
Al Said
1980
Italcantieri
Tirrenia
Staffetta Ionica
1980
Italcantieri
Tirrenia

Lifts
Elevators
Dumb waiters

Domiziana
1979
C.N.R.
//
Galilei/Meridian
1979
I.N.M.A.
//
Giraglia
1979
S.E.B.N.
//
Marconi/Costa Riviera
1979
Visentini
//
Ulisse
1979
C.N. Orlando
Caremar
Quirino
1979
C.N.R.
Ffss
Villa
1979
C.N. Orlando
Saremar
Sibilla
1979
C.N. Orlando
Siremar
Giovanni Bellini
1979
C.N. Breda
Sud Import Ussr
Lensovet
1979
C.N. Breda
Sud Import Ussr
Smolnyy
1979
C.N. Breda
Sud Import Ussr
Mossovet
1979
Italcantieri
Tirrenia
Staffetta Ligure
1978
C.N. De Poli
//
Tetide
1978
C.N. Breda
//
Valbrun A
1978
C.N. De Poli
//
S. Domino
1978
S.E.C.
Agip
Agip Belle Vaphon
1978
C.N. Orlando
Caremar
Vesta
1978
I.N.M.A.
Lauro
Angelina Lauro
1977
C.N. Morini
//
//
1977
C.N. Morini
//
//
1977
S.E.C.
Agip
Agip Griphea
1977
Smeb
Ffss
Aspromonte
1977
Smeb
Ffss
Mongibello
1976
Off. Mecc. Sgorbini
Agip
Agip Murex
1976
Off. Mecc. Sgorbini
Agip
Agip Nautilus