Splashtight semi-watertight doors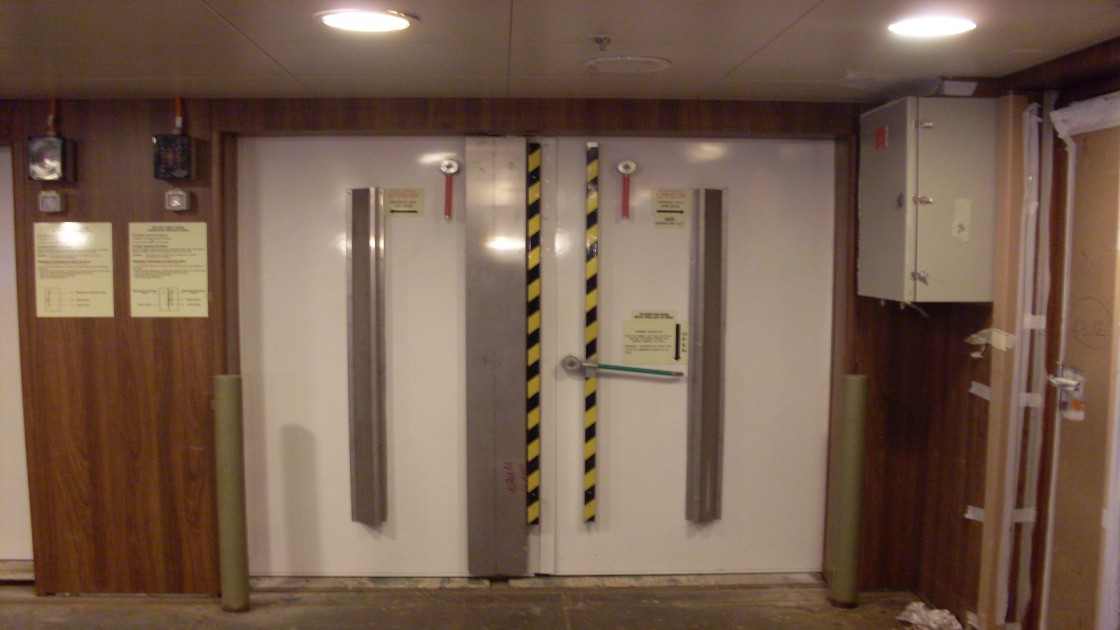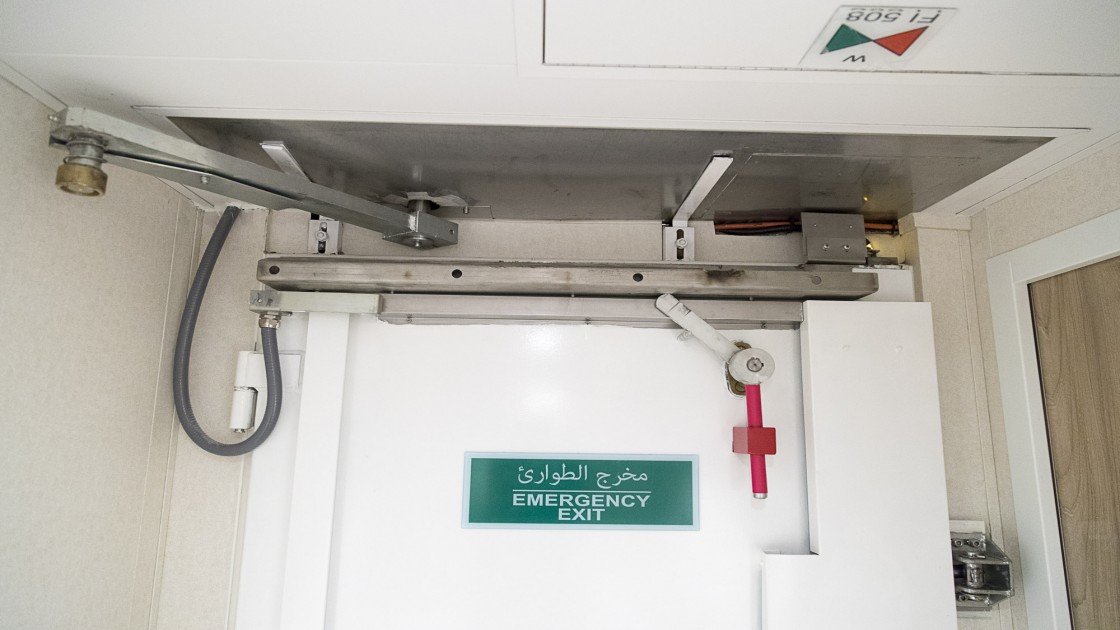 Our splashtight doors are the only approved and certified by the classification Authority as hinged A60 semi-watertight doors with water column height up 3.5m; higher water column height available on request. Our splashtight doors also are SAFE RETURN TO PORT APPROVED.
To date we have more than 3,500 sliding watertight and splashtight door installations to our credit in over 70 leading cruise company ships worldwide.
Each door is equipped with electric local controls,visual and electronic audible alarm and requires a very easy installation: doors are furnished already assembled with frames to be directly welded to the bulkhead.
SeaNet STD system needs only minimum periodical maintenance.
STD, main features:
SeaNet splash-tight doors are hinged type (single or double) with 90

°

or 180

°

opening angle according to technical specification of the customer.

Electric actuation

Standard size: clear width from 700 to 2000mm; clear height from 1700 to 2000mm

STD can be controlled from a normally manned central position of the bridge or locally from both sides of the doors

In closed position, the doors are locked against correspondent frames through a special lock, which guarantee watertighness by means of a perimetral-rubber-packing.

The power, control and indicators are operable in the event of main power failure
STD, main components: splash door structure, electric actuator, local control and manoeuvre switchboards, local emergency manual operating devices, acoustic and visual alarms, racks including all PLC fitted on wheelhouse panel with other electric devices.
markets
references
| year | builder | owner shipyard | system supplied | ship |
| --- | --- | --- | --- | --- |
| on delivery 2022 | Fincantieri | Virgin Cruise | | 6289 |
| on delivery 2021 | Fincantieri | Holland America | | 6278 |
| on delivery 2021 | Fincantieri | Msc Crociere | | 6306 |
| on delivery 2021 | Fincantieri | Princess Cruises | | 6290 |
| on delivery 2021 | Fincantieri | Virgin Cruise | | 6288 |
| on delivery 2020 | Fincantieri | Carnival Cruise | | 6273 |
| on delivery 2020 | Fincantieri | Princess Cruises | | 6275 |
| on delivery 2020 | Fincantieri | Regent | | 6281 |
| on delivery 2020 | Fincantieri | Silver | | 6279 |
| on delivery 2020 | Fincantieri | Virgin Holidays Cruises | | 6287 |
| 2019 | Fincantieri | Costa Crociere | | Costa Venezia |
| on delivery 2019 | Fincantieri | P&O Australia | | 6272 |
| on delivery 2019 | Fincantieri | Princess Cruises | | 6268 |
| 2018 | Fincantieri | Carnival Cruise | | Horizon |
| 2018 | Fincantieri | Holland America | | Nieuw Amsterdam |
| 2018 | Fincantieri | Msc Crociere | | 6257 |
| 2018 | Fincantieri | Seabourn Cruises | | Seabourn Ovation |
| 2017 | Fincantieri | Msc Crociere | | Seaside |
| 2017 | Fincantieri | Princess Cruises | | Majestic Princess |
| 2017 | Fincantieri | Viking | | Viking Sun |
| 2017 | Fincantieri | Viking | | Viking Sky |
| 2016 | Fincantieri | Carnival Cruise | | Carnival Vista |
| 2016 | Fincantieri | Holland America | | Koningsdam |
| 2016 | Mariotti | Private | | FULK AL SALAMAH |
| 2016 | Fincantieri | Regent Cruises | | Seven Seas Explorer |
| 2016 | Fincantieri | Seabourn Cruises | | Seabourn Encore |
| 2016 | Fincantieri | Silversea Cruises | | Silversea Muse |
| 2016 | Fincantieri | Viking | | Viking Sea |
| 2015 | Fincantieri | Princess Cruises | | Britannia |
| 2015 | Fincantieri | Viking | | Viking Star |
| 2014 | Fincantieri | Costa Crociere | | Costa Diadema |
| 2014 | Fincantieri | Princess Cruises | | Regal Princess |
| 2013 | Fincantieri | Princess Cruises | | Royal Princess |
| 2012 | Fincantieri | Carnival Cruise | | Carnival Breeze |
| 2012 | Clodia | Consorzio Venezia Nuova | | Mose |
| 2012 | G. Lavori Fincosit | Consorzio Venezia Nuova | | Mose |
| 2012 | Fincantieri | Costa Crociere | | Costa Fascinosa |
| 2012 | Fincantieri | Oceania Cruises | | Oceania Riviera |
| 2011 | Fincantieri | Carnival Cruise | | Carnival Magic |
| 2011 | Mariotti | Seabourn Cruises | | Seabourn Quest |
| 2010 | Fincantieri | Carnival Uk | | Queen Elizabeth |
| 2010 | Fincantieri | Carnival Uk | | Azura |
| 2010 | Fincantieri | Costa Crociere | | Costa Favolosa |
| 2010 | Fincantieri | Holland America | | Nieuw Amsterdam |
| 2010 | Fincantieri | Oceania Cruises | | Oceania Marina |
| 2010 | Mariotti | Seabourn Cruises | | Seabourn Sojourn |
| 2009 | Fincantieri | Carnival Cruise | | Carnival Dream |
| 2009 | Fincantieri | Costa Crociere | | Costa Deliziosa |
| 2009 | Mariotti | Seabourn Cruises | | Seabourn Odyssey |
| 2009 | Fincantieri | Silversea | | Silver Spirit |
| 2008 | Fincantieri | Carnival Cruise | | Carnival Splendor |
| 2008 | Fincantieri | Costa Crociere | | Costa Luminosa |
| 2008 | Fincantieri | Holland America | | Eurodam |
| 2008 | Fincantieri | Princess Cruises | | Ruby Princess |
| 2007 | Fincantieri | Carnival Cruise | | Carnival Freedom |
| 2007 | Fincantieri | Carnival Uk | | Ventura |
| 2007 | Fincantieri | Cunard | | Queen Victoria |
| 2007 | Fincantieri | Hurtigruten | | Fram |
| 2006 | Fincantieri | Costa Crociere | | Costa Concordia |
| 2006 | Fincantieri | Costa Crociere | | Costa Serena |
| 2006 | Fincantieri | Princess Cruises | | Emerald Princess |
| 2006 | Fincantieri | Princess Cruises | | Crown Princess |
| 2005 | Fincantieri | Carnival Cruise | | Carnival Liberty |
| 2005 | Fincantieri | Holland America | | Eurodam |
| 2004 | Fincantieri | Costa Crociere | | Costa Magica |
| 2004 | Fincantieri | Holland America | | Noordam |
| 2004 | Fincantieri | Princess Cruises | | Caribbean Princess |
| 2004 | Mitsubishi | Princess Cruises | | Sapphire Princess |
| 2003 | Fincantieri | Carnival Cruise | | Carnival Glory |
| 2003 | Fincantieri | Costa Crociere | | Costa Fortuna |
| 2003 | Fincantieri | Holland America | | Oosterdam |
| 2003 | Fincantieri | Holland America | | Westerdam |
| 2003 | Mitsubishi | Princess Cruises | | Diamond Princess |
| 2002 | Fincantieri | Carnival Cruise | | Carnival Conquest |
| 2002 | Fincantieri | Holland America | | Zuiderdam |
| 2002 | Fincantieri | Princess Cruises | | Star Princess |
| 2001 | Fincantieri | Princess Cruises | | Golden Princess |
| 2000 | Fincantieri | Carnival Cruise | | Carnival Victory |
| 2000 | Meyer Werft | Carnival Uk | | Aurora |
| 1999 | Fincantieri | Carnival Uk | | Oceana |
| 1999 | Fincantieri | Holland America | | Amsterdam |
| 1998 | Fincantieri | Holland America | | Zaandam |
| 1997 | Fincantieri | Disney Cruise | | Disney Wonder |
| 1997 | Fincantieri | Holland America | | Volendam |
| 1996 | Fincantieri | Carnival Cruise | | Carnival Destiny |
| 1996 | Fincantieri | Disney Cruise | | Disney Magic |
| 1996 | Fincantieri | Princess Cruises | | Grand Princess |
| 1995 | Fincantieri | Holland America | | Rotterdam |
| 1995 | Fincantieri | Princess Cruises | | Sun Princess |